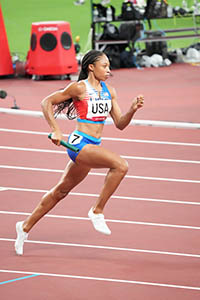 Rigorous training and preparation has helped Allyson Felix win 11 Olympic medals, two of which she won this past summer at the Tokyo Olympics. She now holds the record as the most decorated American track and field athlete in Olympic history.
Felix approached having a healthy baby with the same dedication. But doctors had to rush to save Felix and her daughter when she developed severe preeclampsia after 32 weeks of pregnancy. Her unexpected pregnancy complications have driven Felix to become a champion for improved women's and maternal health. She shared her experiences and her passion to help others with NIH MedlinePlus magazine.
When and how did you find out you were having pregnancy complications?
I thought I had done everything right. I studied and I went to birthing classes. I even had a birth plan. I was running, swimming, and lifting weights. So, I was feeling really strong and prepared to have a healthy, natural birth.
It all changed at a routine prenatal check-in when I was 32 weeks pregnant. During the appointment, the doctor came in and said she wanted me to be hooked up to a [blood pressure] monitor. I was surprised but thought that it might just be normal. When the doctor came back in, she said she had some concerns and wanted to send me to the hospital for further testing. At the hospital, they ran tests and decided they needed to admit me. They said I had severe preeclampsia, including elevated levels of protein in my urine and high blood pressure. That is when it got really scary. I will never forget when the doctor ran in and said that we can't wait any longer, we are going to have to rush you in for an emergency C-section.
What thoughts did you have after your diagnosis?
My heart kind of sank, and I became concerned. I had heard the statistics of Black women being at greater risk of complications during pregnancy, but as a professional athlete, I never imagined that statistic could be me. When we heard that they needed to do an emergency C-section, I was scared and terrified about this tiny baby who wasn't ready to come into the world yet. I wasn't at all thinking about my own health. I just wanted a healthy baby.
What is your message to other women based on your experience?
I want women to be aware. To know they are at risk. To know the signs to look for. To speak up and to always bring forth when there is an issue or something doesn't feel right. This may take more of an effort than it should, but it is necessary. For women, and for Black women particularly, we know from studies that too often our pain isn't perceived as real and isn't taken seriously. It is easy to be intimidated when you are in your doctor's office. But you have to advocate for yourself. You need to be heard.
I recently joined the Centers for Disease Control and Prevention's HEAR HER campaign to share my story and help educate women about the warning signs and ultimately to advocate for themselves.
What led you to speak out and advocate for maternal health?
I'm so grateful for how everything turned out for us and for the care that we received. But it was that experience that really opened my eyes to this whole other world of what women are going through and the risks associated with that, especially for Black women. Once my eyes were opened, I wanted to get involved and see what I could do. In 2019, I shared my testimony with Congress in the larger discussion of public health reform and have had the honor of being on the March of Dimes Celebrity Council to continue as an advocate for maternal health.
How important were family and loved ones throughout this experience?
Looking back on such a scary experience, I feel really blessed that I have had such amazing support from my family and partner. Having my husband there to help me make some decisions was key. The ability to lean on someone else was so important.
How are you and your daughter doing now?
Cammy was born at just 3 pounds, 7 ounces and spent the first month of her life in the neonatal intensive care unit at the hospital. But she is a healthy, bright, and growing toddler now. She was with me at the Olympic trials. I just wanted to really show her, no matter what, that you do things with character and integrity, and you don't give up. Having her as a motivation these past few years has just given me a whole new drive.