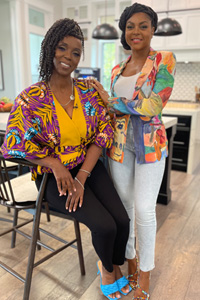 Taraji P. Henson won the hearts of millions with her acting, singing, and writing. The award-winning star of the hit TV series "Empire" and acclaimed movie "Hidden Figures" has now taken on a bigger challenge. She's a leading advocate for improved mental health care, particularly for people of color. Henson talked with NIH MedlinePlus Magazine about her own mental health challenges and her efforts to bring about change.
What led you to use your voice and platform in this way?
As a privileged woman who can afford good health care, I found it really difficult to find a therapist for myself and my son. I called my best friend who has battled anxiety her entire life and said to her, "This is a problem. How can we improve the culture and community in a major way?" We came up with the idea of starting the Boris Lawrence Henson Foundation*, which focuses on improved mental health care. It's named for my father who was a Vietnam veteran and suffered from mental health challenges following his service.
The first thing is to get people to talk about mental health. That is why I decided to share my own mental health struggles. The community has seen my work as an actress for a long time. I have a rapport with them, and they trust me. So, I started to speak out, and, sure enough, we started to see more and more people talking about needing to take care of their mental health. Now we have people motivated to talk about mental health in a major way. It is a great thing, but we have a long way to go.
You have been especially vocal about the stigma associated with mental health and mental illness.
Yes. We need to combat the stigma. And the first thing we need to do is to make it normal to talk about our mental health and how to work on our mental health struggles. Especially coming off a pandemic that seems to never end, we all have issues.
Seeing mental health issues addressed on TV and in movies also is very helpful in reducing stigma. I love the TV show "Dave." In one episode, they talked about the character living with and managing bipolar disorder. Someone who has been suffering in silence can see a show like that and go, "Oh my God, I'm not alone." That is how you end the stigma. You normalize it.
Your Facebook Watch series "Peace of Mind with Taraji" takes on the issue of stigma among women of color.
I love the series. After we launched the Foundation, I felt we weren't reaching enough people. We needed a show to reach people. We set up the show in a format that has a celebrity, another woman of color, and a mental health professional. A health care professional is also there to make sure we can give the audience information on what they can do and where they can go for help. We wanted to show people how therapy really looks. It is just a conversation. I'm really proud of the show because people are watching it and being touched by it. To me this is the most important work that I'm doing in my career.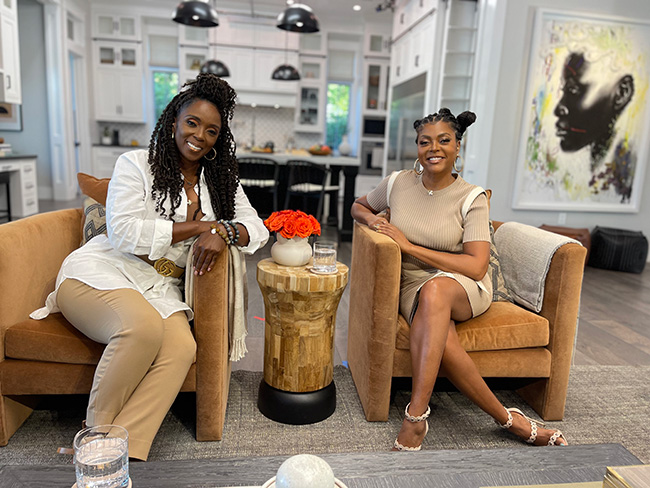 Are you concerned people cannot afford the care they need?
Mental health care should be affordable and easier to access. We also need to improve mental health care services for those who are going through drug rehabilitation. A lot of people who are addicted to drugs and/or alcohol have underlying mental health challenges. They need help addressing those challenges.
You also have talked about the importance of access to culturally competent mental health professionals.
Yes, one reason a lot of Black people don't go to therapy is they don't feel safe. A lot of mental health challenges come from racism. So, when you have to bring that up in a room with someone who can't relate, it's uncomfortable. And a big reason why there's a lack of African-American mental health professionals out there is that we don't even talk about mental health issues in our homes. We've got to change that.
Millions of us have struggled during the pandemic. You have talked about your own struggles during COVID-19, including suicidal ideation.
I think during the pandemic many people toyed with the idea of "should I live anymore?" It's called suicidal ideation or thoughts of suicide. It doesn't mean you are going to go through with it. It is just a thought. Because I'm in therapy, and I have a psychiatrist, I have the tools. I knew that saying it, getting it out of my head, and talking about how to address it would make me feel better. If you keep those thoughts in, that thought might turn into a plan. And that's why I felt the need to share my experience. I don't want people to suffer alone. I had so many people reach out to me after I shared my story to say that they had the same thoughts. And I had the opportunity to show them they could get help. Humans need humans, and if you have a story to tell, tell it.
What is your message to others who are struggling with mental health challenges?
You are not alone. There is no need for you to suffer in silence. There is help. There is always hope. The sun will always come out after the storm. I don't care how bad things may look right now. If you can hold on for just another day, things will get better. There are people out there who can help and want to help.
What's next for Taraji P. Henson, the actress?
I'm about to film the musical version of "The Color Purple." I'm very excited about that!
* NIH was not involved in the creation of the project and reference to it does not constitute or imply endorsement by any federal agency.