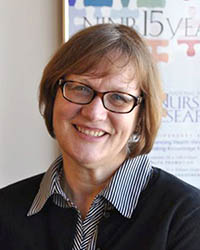 Some of the greatest challenges in patient care involve helping people improve their quality of life as they cope with a serious illness. Providing their families with support and, at the end of life, grieving, can also be hard.
For that reason, studying ways to comfort and care for these people is important, says Jeri Miller, Ph.D., chief of the Office of End-of-Life and Palliative Care Research at the National Institute of Nursing Research (NINR).
"We want to make sure we understand what all populations in all care settings need. We also want to learn how best to communicate a patient's situation to family members and other health care providers," she says.
That's why NINR is funding research about the health risks and needs of family caregivers of persons with serious illness. Family caregivers can include people like spouses, children, neighbors, and friends. "These caregivers are at greater risk of depression and poor health because they may be less likely to tend to their own needs," says Dr. Miller.
In addition, some NINR studies look at how to adapt palliative care for elderly patients, adolescents, and young adults.
"Caring for patients during the COVID-19 pandemic has shown us the importance of communicating your preferences, goals and values for end-of-life care. We want people to proactively think about and make their care preferences known before they are seriously ill and unable to communicate their needs," says Dr. Miller. Being proactive, planning, and sharing your choices for care with your loved ones and providers is helpful whether you have COVID-19 or another serious disease.
Other studies focus on improving palliative and end-of-life care in underserved communities, such as in rural areas.
"The visiting restrictions from COVID-19 have also pushed us to develop new resources and tools, such as telehealth guidance, so that family members have access to care during a crisis," Dr. Miller says.