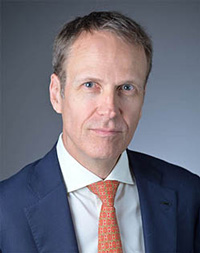 Stroke research is a priority for the National Institutes of Health (NIH). Stroke, which often stops blood from flowing to the brain or causes bleeding in or around the brain, affects almost 800,000 people in the U.S. each year and is the fourth leading cause of death.
The National Institute of Neurological Disorders and Stroke (NINDS) leads stroke research for NIH. Through StrokeNet, a network of 25 research centers across the U.S., NINDS conducts clinical trials focused on prevention, treatment, and rehabilitation.
Clinton B. Wright, M.D., M.S., director of the Division of Clinical Research at NINDS, shared some of the latest research updates and what they mean for stroke treatment in the future.
How has stroke research changed?
It used to be that stroke victims could only come into the hospital within six hours of a stroke to get a brain clot removed. Any longer and it was believed that you would have a brain hemorrhage. Now, with advanced brain-scanning systems, someone can be treated within 16 hours of having a stroke. The NIH-supported DEFUSE 3 trial helped change the guidelines for treating strokes. We can identify at-risk brain tissue and save many more lives much sooner.
"Now, with advanced brain-scanning systems, someone can be treated within 16 hours of having a stroke."

- Clinton B. Wright, M.D., M.S.
What other stroke research are you working on?
Currently, we are funding several clinical trials comparing different therapies and the effectiveness of acute treatment and recovery. In addition to DEFUSE 3, here are two important ones:
Telerehab: NIH funded a study on delivering patient rehabilitation care via a computer or mobile device in the person's home. A lot of people don't get rehabilitation services because they're very expensive. We still need to do more trials with more people, but so far, we have shown that telerehabilitation is no worse than getting rehab at a facility.
Additional blood thinner: Another recent study, the POINT trial, tested whether it was effective to give high-risk stroke patients two blood thinners instead of one. This could be as simple as giving aspirin and another blood thinner. Previous studies showed that two blood thinners could cause a bleeding problem. But the POINT trial found that two blood thinners lowers the risk of recurring stroke. And though there was a small increased risk of mostly gastrointestinal bleeding, the second blood thinner can be safely stopped after a few weeks when it is most needed.
What does the future look like for preventing and treating strokes?
Now that we understand that most dementias are due to multiple causes, researchers can stop thinking about these brain disorders [like stroke or Alzheimer's disease] in isolation. NINDS and the National Institute on Aging fund a program called MarkVCID. This is a group of medical centers whose goal is to find blood-based biomarkers in the brain that predict who is at risk for vascular contributions to cognitive impairment and dementia, or VCID. With this type of imaging, researchers will be able to better predict who is at risk for stroke.
Congress has also funded the BRAIN Initiative, which allows us to do neuroimaging [create pictures of the brain] and helps us understand normal behavior and the disease process. So we will have even better testing techniques and strategies to help prevent stroke in the future.

---
FAST: How to spot a stroke and know when to call 911

---

What should people know about common causes of stroke?
People think that medicine takes care of hypertension and high blood pressure, which are the most common causes of stroke. But medicine doesn't always take care of blood pressure. Keep a diary of your numbers, and be sure your health care provider is regularly monitoring your blood pressure. Learn how to take your blood pressure at home. And if it's not normal, get treated immediately.