Acclaimed actress and producer Viola Davis is a true triple threat as a performer.
Her work has won her the rare triple crown of acting—an Academy Award, an Emmy Award, and a Tony Award—and she's even won a Tony twice.
Recently diagnosed with prediabetes, Davis has taken on a new role as an advocate for diabetes education and awareness.
Davis spoke with NIH MedlinePlus magazine about her new outlook on health and her passion for educating others.
How did you react to your prediabetes diagnosis?
I was frozen and in shock when I got the diagnosis. I considered myself to be a very healthy woman. I thought I watched what I ate. I exercised. I was not overweight.
Looking back now, I see I probably had a lot of preconceived notions about diabetes. There is a history of diabetes in my family. My sisters, my great aunt, and other members of my family have type 2 diabetes.
Did you discuss diabetes in your family?
My sisters would talk amongst themselves about getting diabetes and taking medication. But no one ever talked about what could be done to prevent it. There were a lot of fallacies and old wives' tales about it. They would refer to diabetes as "You got the sugar." And people would say things like "Stop eating too much sugar before you get the sugar."
We never had that proactive conversation about steps to prevent getting the diagnosis.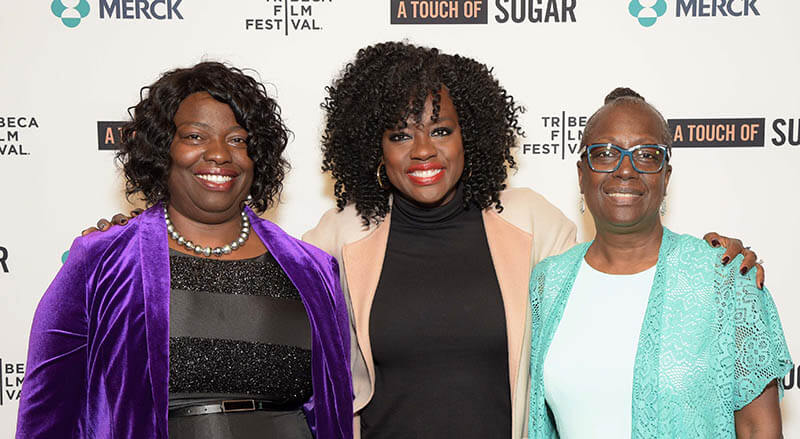 What have you done since your diagnosis?
Knowing that I have prediabetes has empowered me. I didn't want to get full-blown type 2 diabetes. Thankfully, I had the resources and the presence of mind to do the research to learn what to do to lower my blood sugar levels.
"Knowing that I have prediabetes has empowered me."

- Viola Davis
I started to look at everything I was eating. Because I'm such an extraordinarily busy person, I wasn't always thinking about what I was putting in my mouth. I'm a mother of a young daughter, and sometimes I would eat what she ate because I'm on the run. Then there was snacking. And even though I don't consume much alcohol, I needed to factor that in, too.
I didn't know that I should be tracking my blood sugar levels and checking my A1C levels every three months. I didn't even know what that was. It is hard to keep track of it all and stay on top of it all. But I've managed to do it.
What is your message to those who are facing type 2 diabetes?
Education is freedom. It is. Go to your health care provider and get your blood glucose levels tested. And if you have diabetes, press them to help you manage it. If you have prediabetes, ask them to arm you with what you need to do to prevent getting diabetes. You may be genetically predisposed to it, but there are things within your power that you can do to prevent or manage the disease. That's why I worked with Merck on the documentary "A Touch of Sugar" to help raise awareness and empower others.*
It's also important that we stop stigmatizing people who have a prediabetes or diabetes diagnosis. There is a stigma that it only afflicts those who bring it upon themselves. And there is a stigma that people with diabetes are just eating what they want, are out of control, and don't care about their bodies. That is just not the case.
Look at me. I worked out four, five, six times a week, watched what I ate, and I got it. It's a chronic disease that should not be dismissed because of myths and stigma.
Can you talk about the importance of diabetes research, like that supported by the National Institutes of Health?
More research to discover improved treatments and new tools for prevention is so important because of the sheer number of people who have the condition and the problems that it causes. That is proof positive of the desperate need for more research.
What other professional projects are you working on?
I'm working on my final season of the TV series "How to Get Away with Murder." I'm also working on the movie "Suicide Squad 2."
And I'm really excited about a new movie I just completed for Netflix. Like the film "Fences," this one, "Ma Rainey's Black Bottom," is also an adaptation of a play by August Wilson.
I'm also working on being the best wife and mother I can be!

* The National Institutes of Health was not involved in the creation of the project, and reference to it does not constitute or imply endorsement by any federal agency.