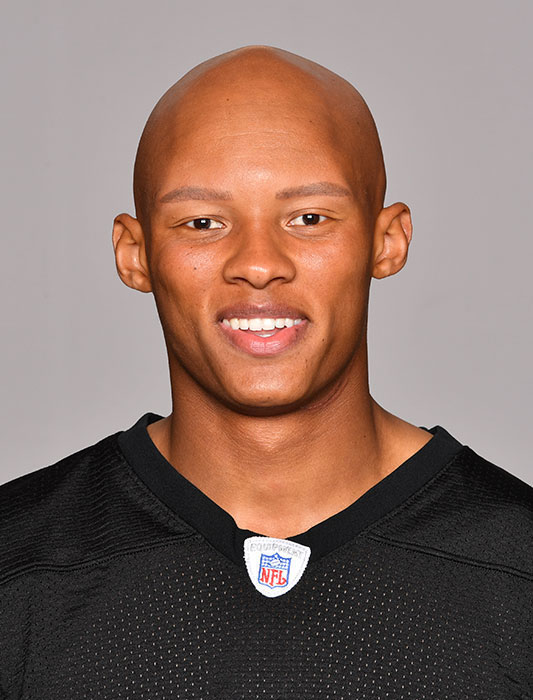 Joshua Dobbs is a triple threat.
He's a National Football League quarterback, now with the Jacksonville Jaguars. He has a degree in aerospace engineering—literal rocket science—from the University of Tennessee, where he was a dean's list student. Joshua is also a leading advocate for those with alopecia areata, a hair loss condition he has had since childhood.
He spoke to NIH MedlinePlus magazine about his personal experience and work with the National Alopecia Areata Foundation to inspire confidence in others with the condition.
Please tell us about your experience with alopecia areata.
My diagnosis was a little different than many people with alopecia. My first diagnosis came when I was in third grade. I woke up one morning with a small bald spot on my head. My parents were understandably worried and quickly took me to the dermatologist. Soon after, I was diagnosed with alopecia.
My dermatologist gave me a topical cream to apply to my scalp, and my hair grew back. But during my sophomore year in high school, my hair got patchy again. Cortisone shots kept my alopecia at bay again until my senior year, when my eyebrows and eyelashes started to fall out.
In college, I had to get weekly cortisone shots to help prevent hair loss, but even those became less and less effective for me.
So after football season my junior year, I decided to shave my head. After that, my hair stopped growing and I have been completely bald ever since.
The condition often runs in families. Do you have a family history of alopecia?
No. No one else in my family has it.
How have your family and friends helped you?
My family has been amazing. They have done the research so we understand the condition as best we can. They've also made sure I got the best care and treatment possible.
Their biggest gift was teaching me to have a positive mindset when dealing with adversity, whether it is on the football field or in other parts of my life.
My mom is battling an autoimmune disease and is in a wheelchair. Compared to her battles, mine seem less significant.
Also, my best friends, former classmates, and teammates have all been very supportive. I'm lucky to have a support system that helps me feel comfortable in my own skin and be confident.
You've talked about a lack of understanding among people about the condition. How was that for you?
I was a high-profile football player and quarterback at the University of Tennessee—my alopecia experience was very public. There was a fun and playful side with supportive fans. There was also an ignorant side. Some opposing fans and players would try to impact my play with taunts about my hair loss.
That was tough, but it taught me the ultimate form of self-confidence. You can look in the mirror and know that the fact that you can't grow hair has no impact on what you contribute to your team, your friends, or your community.
What is your message to others who have this condition, particularly young people?
About a year ago, I had the pleasure of meeting and spending time with former NBA player Charlie Villanueva, who also has alopecia. He has such a positive outlook. And his core message, which I try to share, resonated with me: "I have alopecia. Alopecia doesn't have me."
Keep in mind that all of your dreams can be accomplished without your hair. Alopecia shouldn't stand in your way.
You do live in a society that is filled with social media and a focus on beauty. But at the end of the day, if you are comfortable in your own skin—whether you have long hair or no hair—you can be successful and happy.
Some people with alopecia choose to wear a wig or otherwise cover up. What tips do you have?
I do have an exquisite hat collection! Be yourself. If you are wearing a wig and that is what makes you comfortable, do that. Be you. Rock your style!
Why did you decide to become an advocate?
When I was in college, I met a kid with alopecia from a small town in Tennessee who had seen me play football on TV. His mom told me he was being home-schooled. He didn't want to leave the house without a hat on his head and was struggling to make friends.
When we met, we were both wearing hats. When I took my hat off, I will never forget how wide his eyes got and how big his smile was. He had never met anyone else with alopecia.
Meeting me gave him confidence. It made me realize I should use my platform to help others who are going through what I went through.
What does the future hold for Joshua Dobbs?
The future is bright, both on and off the field. I look forward to continuing to grow as an NFL quarterback and getting more playing time. And I look forward to advancing in my aerospace engineering work. I look forward to being a better version of myself in the years to come.