Tennis great Caroline Wozniacki won 30 professional titles and held the No. 1 ranking in the world for over 70 weeks from 2010 to 2011. In 2018, after returning to the No. 1 spot, 28-year-old Wozniacki was diagnosed with rheumatoid arthritis (RA), an autoimmune condition that causes pain, swelling, and stiffness in our joints. She is now helping others with RA by sharing her story and encouraging them to do the same.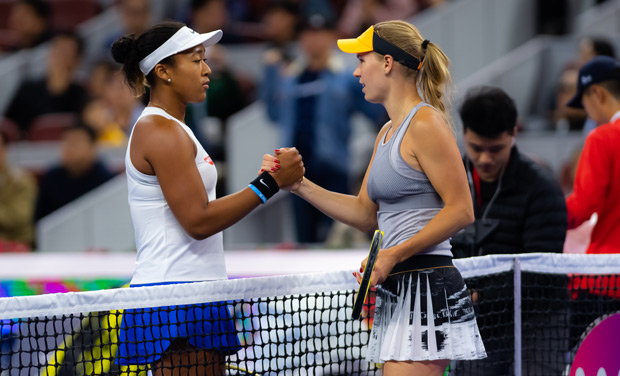 Wozniacki, right, shakes hands after a match with Naomi Osaka at the China Open in 2019.
When did you first notice symptoms of RA?
In 2018, I started not feeling my best. I had joint pain that moved around from my hands and feet to my elbows and knees. I felt exhausted and run down. My voice got raspy even though I didn't have a cold. I chalked it up to being exhausted, pushed through it, and kept playing tennis. After the match in Montreal [at the Rogers Cup] in August of that year, I woke up and told my now husband that I literally couldn't move. I felt like I had been hit by a truck. I couldn't brush my teeth or lift my arms. It was a scary and horrible feeling.
Were you diagnosed right away or did it take a while?
Getting a diagnosis was frustrating. I saw a number of doctors, but they couldn't find a problem. They said maybe it was in my head or that maybe I was out of shape. But I knew there was something really wrong. I wouldn't stop pushing until I got answers. Luckily, I finally found a doctor who took me seriously and really listened to me. He did further blood tests, which suggested that I had an autoimmune disease. So, he referred me to an excellent rheumatologist, who diagnosed me with rheumatoid arthritis in October of 2018. She put together a treatment plan with me and we started the journey to get better then and there.
How did you react when you got the diagnosis?
I remember sitting at the doctor's office and thinking: Wait, isn't arthritis for old people? This can't be happening to me. I was the No. 1 or 2 ranked tennis player in the world. I was at the top of my game. I didn't understand. But at the same time, I was relieved it wasn't something worse. After the initial fear had passed, I automatically shifted to focusing on what I needed to do to get better.
How are you feeling now?
Most days I feel great, which is awesome. There are also some days that I wake up with symptoms. For me it is all about accepting that this is the "new me." I give myself the chance to just take it easy and not overdo it. I am also lucky to have a very supportive family. The hard part about RA is the fact that you can't see it. If you are not feeling well, it's not like you have a broken arm or a cast. It was an adjustment for my family to really listen and know where I was coming from with my RA. I'm thankful to my family for being understanding and helping me get better.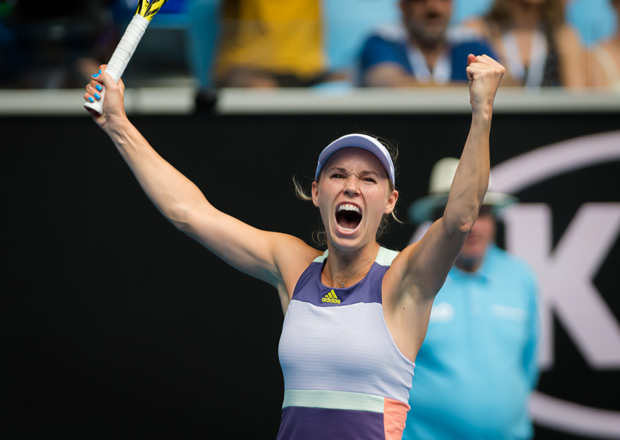 Wozniacki celebrates after her win at the 2020 Australian Open.
What do you do to control stress and stay healthy with RA?
What has been really helpful is to write down what makes me feel good and what makes me feel bad. So, for example, I will write down what I ate the day before and how it made me feel the next day. This helps me to know what might trigger a flare-up of my arthritis. Not being on the road as much [traveling for tennis tournaments] has made it easier for me to eat even healthier foods. I eat more of an anti-inflammatory diet now. I eat a lot of greens, have cut out really fatty and greasy foods, and reduced the amount of red meat I eat. Traveling less has also helped me reduce stress. I'm very much a go-go-go person with everything going a hundred miles an hour. I have learned it is OK to take a deep breath, enjoy the moment, and take it easy sometimes.
What advice do you have for others who are confronting the condition?
Get as much information as possible. Find a doctor you feel comfortable with and set a game plan that works for you individually. I say that because with RA what may work for you or me may not work for another person. With the right care, you can really get your life back and feel better. I also find that hearing others' stories and sharing mine really helps. That's why I got started with the AdvantageHers campaign for women with autoimmune conditions to share their stories.* We can all get through this together as one team and one community.
You climbed Mount Kilimanjaro last year with your family. How did it feel to accomplish that with RA?
That was an incredible experience and has been on my bucket list for a long time. Getting to do it with my family was very special. It was so difficult. We climbed for seven days and were all exhausted, but once we got to the top, it felt so rewarding. It was an incredible thing to be able to do. I will remember it for the rest of my life.
What's next for Caroline Wozniacki?
Tennis has been such a huge part of my life. I want to keep it in my life in some way, which could mean doing something like TV commentary in the future. I also hope to keep traveling the world with my family!
* The National Institutes of Health was not involved in the creation of the project, and reference to it does not constitute or imply endorsement by any federal agency.